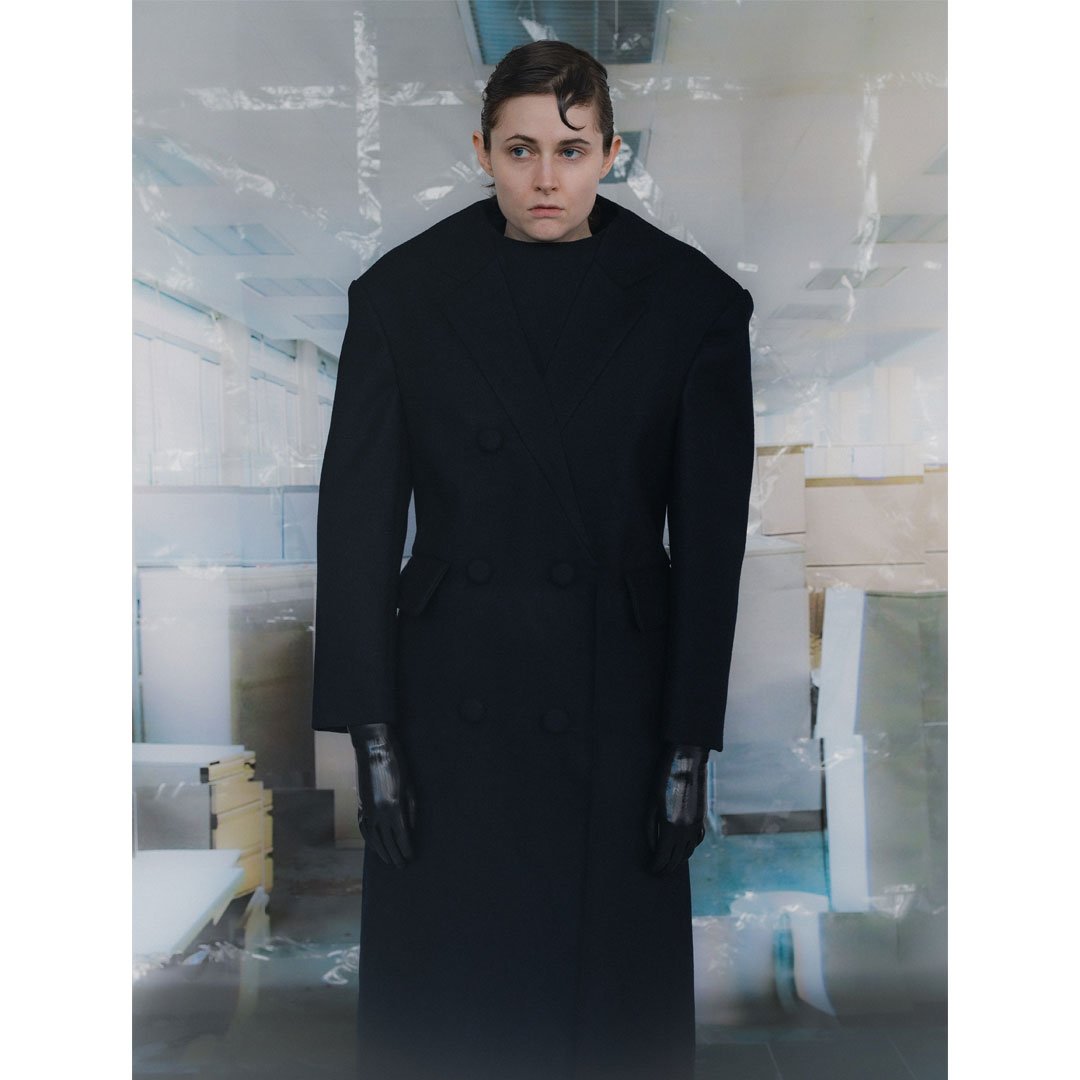 Jan-Niklas Jessen - Hochschule für angewandte Wissenschaft Hamburg
de-codiert – Hochschule für angewandte Wissenschaft Hamburg
Kollektionstext:

K O L L E K T I O N S T E X T //englisch
The "de-coded" collection emphasizes a comprehensive exploration of both theoretical and material aspects with focus on business dress code. The theoretical foundation extends into the development of materials and surfaces, departing from traditional elements of business attire and challenging established visual conventions through material transformations that decode and disrupt the business dress code..
The concept originated from the notion of "appearance and reality" – investigating the outward appearance of garments and raising the question of which elements communicate aspects of business attire to society; What associations does our society attach to a particular design of an exemplary coat, and how can these associations be creatively incorporated and subverted in a multifunctional and sustainable manner? This exploration also encompassed the exploration of materials in conjunction with classic aesthetics, such as wool versus latex. Furthermore, the collection delved into the inherent significance of tailoring and the manipulation of customary practices, such as the expectation for certain garments to be tailored to individual measurements.
The collection embodies a critical examination of social norms and thinking, evident in every facet of "de-coded": the selection of materials, thematic conception, design and cuts, accessories, and overall concept conveyed through the photoshoot that captures the finished collection.

About me:
Jan-Niklas Jessen, a 25-year-old designer from Flensburg, embarked on his educational journey with a design program, which he excelled in at the Schwerin Design School. This year, he successfully completed his bachelor's degree in fashion at HAW Hamburg. His final collection garnered a nomination for the Apolda European Design Award 2023. In the winter semester of 2023, Jan-Niklas Jessen will commence the Master's program "Fashion, Clothing and Textiles – New Landscapes for Chance" at the Royal Danish Academy in Copenhagen.

K O L L E K T I O N S T E X T //deutsch
Der Fokus der Kollektion "de-codiert" liegt auf einer Kombination aus theoretischer und materieller Auseinandersetzung mit Blick auf die Thematik des Business Dresscodes. Der theoretische Unterbau setzt sich in der Entwicklung der Materialien und Flächen weiter; ausgehend von klassischen Elementen der Geschäftsbekleidung und den internalisierten Sehgewohnheiten, entwickelten sich Materialveränderungen, welche den Business Dresscode aufbrechen und de-codieren.
Die Grundlage dieser Idee entsprang dem Gedanken des "Schein und Seins" – Welchen Schein hat welches Kleidungsstück und welche Elemente kommunizieren nach außen, dass es sich um Geschäftskleidung handelt? Was verbindet unsere Gesellschaft mit einem bestimmten Design eines beispielhaften Mantels und wie können diese aufgegriffen und multifunktional, nachhaltig aufgebrochen werden? Auch kam die Frage der Materialien in Verbindung mit klassischem Auftreten auf (z.B. Wolle vs. Latex). Das Augenmerkmal auf das Tailoring für sich und dem Spielen mit Gewohnheiten, dass bestimmte Kleidungsstücke beispielsweise maßangefertigt zu sitzen haben, spielte ebenfalls eine große Rolle bei der Realisierung.
In allen Facetten der Kollektion ist das Hinterfragen von gesellschaftlichem Denken und Normen zu finden: in der Auswahl der Materialien, der Themenkonzipierung, dem Design und den Schnitten, den Accessoires und schlussendlich als Gesamtkonzept in den Fotoshootings.

Über mich:
Jan-Niklas Jessen, 25 Jahre, ist gebürtiger Flensburger. Begonnen mit einer Designausbildung, welche er mit Auszeichnung für besondere Leistung an der Designschule Schwerin absolvierte, schloss er dieses Jahr seinen Bachelor im Bereich Mode an der HAW Hamburg ab. Mit seiner Abschlusskollektion wurde er zum Apolda European Design Award 2023 nominiert. Zum Wintersemester 2023 tritt Jan-Niklas Jessen den Masterstudiengang "Fashion, Clothing and Textiles – New Landscapes for Chance" an der Royal Danish Academy in Kopenhagen an.